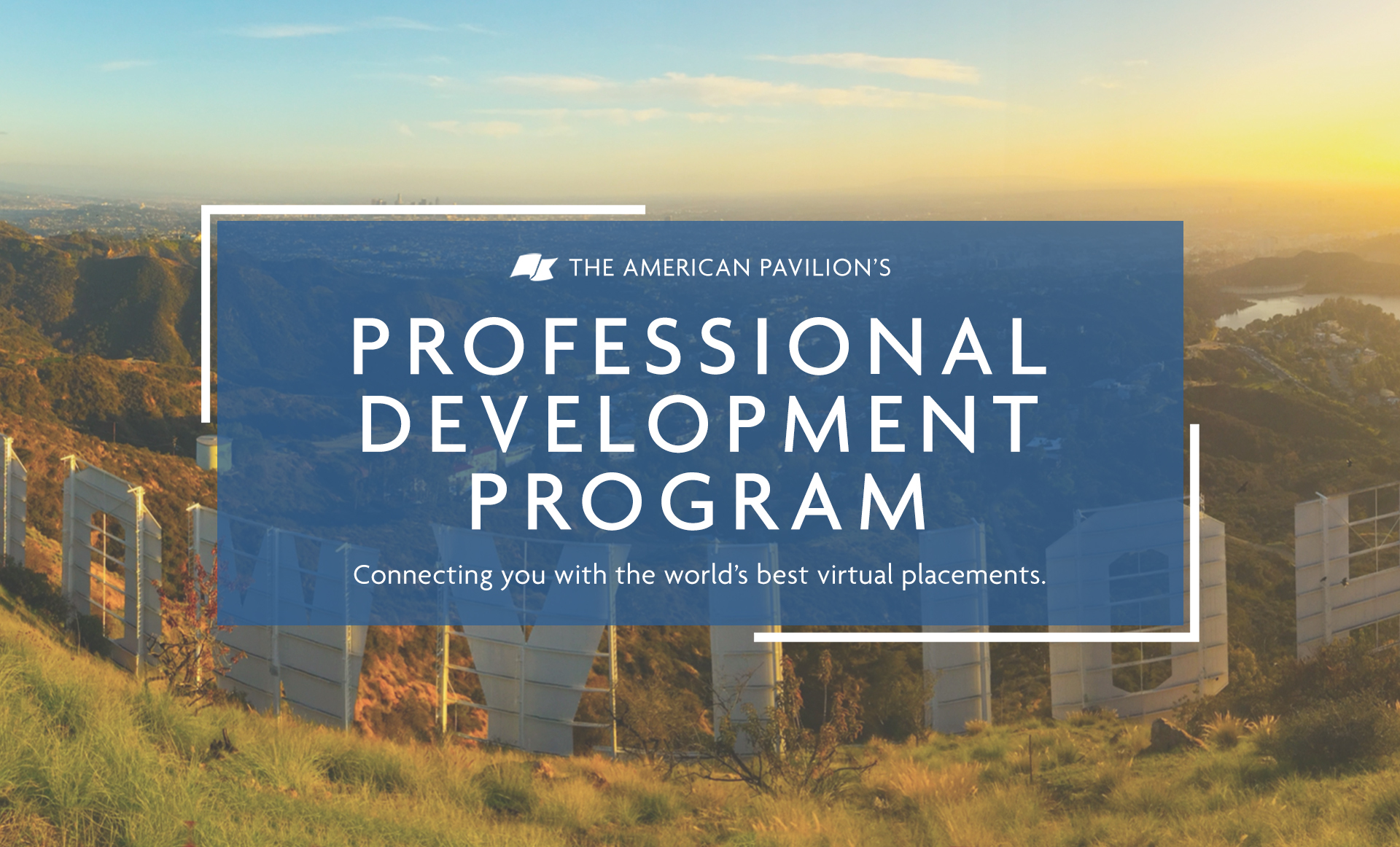 As the only student program officially sanctioned by the Cannes Film Festival, The American Pavilion is proud of its long-standing tradition of connecting students worldwide with real-world entertainment industry opportunities. Our newest initiative, The American Pavilion's PROFESSIONAL DEVELOPMENT PROGRAM, takes the next step by offering year-round mentorship and remote internship placement for students who want to jumpstart their careers.
32 YEARS OF CREATING OPPORTUNITIES.
Since our inception in 1989, The American Pavilion has provided internships for over 200 students a year at the Cannes Film Festival. This 10-day work experience helps students put their futures in focus.
Alumni from our program have landed prime positions across the industry spectrum, such as Feature Publicist at Walt Disney Studios, Barack Obama's White House videographer, and Vice President of Global Marketing Partnerships at Marvel Studios. The common thread? All chalk up the acceleration of their professional careers to their participation in The American Pavilion Worldwide Student Program!
A NEW ERA FOR INTERNSHIPS
Recognizing the current absence of in-person internships, The American Pavilion's Professional Development Program has been designed to provide you with access to the same invaluable career development opportunities – online and from wherever you may be.

Unrestricted by geography or time, PDP applications are accepted year-round, with a group Career-Prep Workshop offered quarterly starting in January 2021.
---
FINDING YOU THE PERFECT PLACEMENT
Following a 3-day Career Prep Workshop, you will be matched with one of our partner-companies.
Partner companies range from top film companies to boutique distributors, and include ICM, CAA, Variety, CBS, California Pictures, Magnolia Releasing, and Killer Films. Hospitality placements have included PR firms, American Express, and Marriott.
The AmPav team will also offer ongoing support to navigate your placement in this ever-changing landscape.

PROGRAM BENEFITS
• Build your résumé and gain real-world experience in today's new virtual workplace with a three-month internship, tailored to your schedule

• Get matched with a customized job placement, based on your career goals and interests, through AmPav's global network of film, hospitality, and media companies

• Applications are accepted on a revolving basis: Apply anytime for any semester or quarter!

• Additional short-term opportunities exist for festival and event-based positions

• Automatic enrollment in our Road To Cannes virtual series
NEXT CAREER PREP WORKSHOP: TBD
The American Pavilion Student Program sparked a fire that has become the work of my life, and I will always be grateful for that first access into a world I thought was totally inaccessible to me. Thank you, and carry on!"

—Hope Hall, Obama White House Videographer (Cannes '90)