Membership at the Pavilion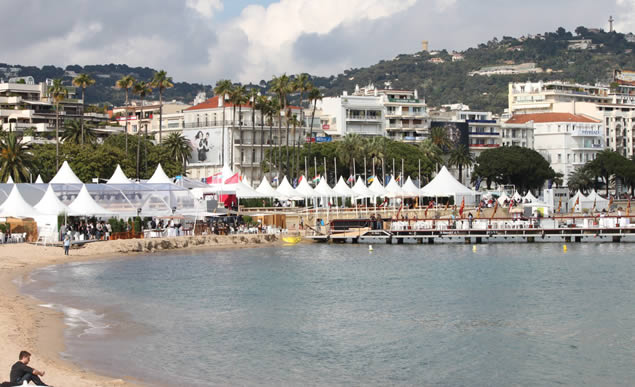 The American Pavilion at the Cannes Film Festival is your full-service business and entertainment venue, just steps away from the Palais. For over 30 years, The Pavilion has served as the primary focus for the American presence in Cannes. Enjoy a relaxed seaside environment with all of the desired amenities and necessary professional services to make your time at the Festival successful, productive, and enjoyable!
2021 Cannes Update
We have made the difficult decision to delay our next American Pavilion until May of 2022. Safety concerns, limited attendance, and a slow financial recovery are all contributing factors. All memberships purchased in 2020 will be honored at the 2022 American Pavilion.
Standard Membership
Extensive Amenities Just For You!
Wireless Café – Complimentary wi-fi. Stay connected and productive!
The Roger Ebert Conference Center – Gain insight and interact with industry luminaries in an intimate conference setting.
Full-Service Restaurant & Bar – Featuring a menu of daily specialties made with fresh, local ingredients!

NEW: Complimentary Beverage Credit (€25) – Receive a €25 credit for use toward drinks at our Restaurant & Bar while you re-charge, relax and connect with friends during the festival.

Coffee & Tea Bar – Enjoy complimentary American coffee and specialty drinks from Coffee of Grace.
Business Services – Laser printing, photocopying, and other administrative services available!
Publications – Pick up official daily Festival calendars, trade publications, directories, and more!
Events & Parties – Members' welcome party with wine, beer and appetizers. Also opportunities for networking, entertainment and fun!
The American Pavilion is open 9:00AM – 6:00PM daily throughout the Festival
Please note: Membership fees are non-transferable and non-refundable.
Standard Membership
General Registration

$195 USD

Late Registration

$250 USD

Red Carpet Membership

An Unparalleled, Personalized Experience . . .
All of the benefits afforded our Standard Members, as well as:
Reserved Priority Seating for Conference Center Events
Nightly Cocktail Hour
Reserved Dining Tables with Dedicated Wait Staff
Convenience of Establishing a Food & Beverage Tab for the Duration of the Festival
Complimentary Coffee and Croissants (9:00AM – 11:00AM) on our Seaside Red Carpet Terrace
Priority Wi-Fi Access
Business Services & Assistance
Complimentary Gift Bag from our Sponsors
10 Complimentary Transferable Day Passes for One-Time Guest / Client Admission
Please note: Membership fees are non-transferable and non-refundable.
Red Carpet Membership
General Registration

$950 USD

Late Registration

$1,100 USD

All Members Require Festival Credentials
Please note: The American Pavilion is located within the International Village, which requires official Festival or Marché du Film credentials for entry, without exception. Please see the Festival website for further information on the accreditation process.
The American Pavilion Membership Policy
Membership fees are non-transferable and non-refundable.
Since its inception, The American Pavilion has served as the hub for Hollywood's presence in Cannes. It's the place to be if you want to be in the middle of the action.
– Roger Ebert