Cannes Festival Internships
Intern at the Cannes Film Festival and Jumpstart your Career!
The American Pavilion internship programs are each specifically designed to complement a student's school curriculum with hands-on experience, direct access to industry professionals and networking opportunities with other film-focused students from leading universities all over the world. Students participate with industry thought leaders in roundtable and panel discussions on all aspects of the film business.
The Cannes Film Festival is the backdrop for The American Pavilion's largest and longest running student internship program. The two week program immerses participants in the workings of the film and entertainment world. Festival credentials and an in-house ticketing system make it possible for students to procure hard-to-get tickets to Festival and Market screenings. The American Pavilion offers "the only student program officially recognized and sanctioned by the Festival de Cannes and the Marché du Film."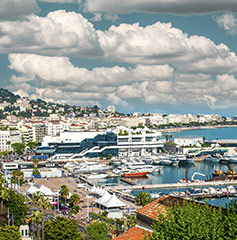 The American Pavilion Student Program sparked a fire that has become the work of my life, and I will always be grateful for that first access into a world I thought was totally inaccessible to me. Thank you, and carry on!"
—Hope Hall, White House Videographer (Cannes '90)