2015 Finalists: Emerging Filmmaker Showcase Presented by American Express
About the Showcase:
Since 1989, The American Pavilion has offered opportunities in Cannes to film students from around the world. The 2015 Emerging Filmmaker Showcase will provide an opportunity for emerging filmmakers to have their works seen by Cannes Festival and Film Market attendees. Prizes will be awarded to filmmakers and the top twenty-two films will be screened in a special "Emerging Filmmaker" showcase at The American Pavilion in Cannes.
2015 Winners Announced



Emerging Filmmaker Showcase Best Short Film – winner
BIS GLEICH (TIL THEN) directed by Benjamin Wolff
Emerging Filmmaker Showcase Best Student Film – winner
WELCOME directed by Serena Dykman
(NYU Tisch School of the Arts)
Emerging Filmmaker Best Documentary – winner
HOLLYGROVE: THE TRUE LIFE STORY OF MONSERRAT directed by Carlos Hurtado
Emerging Filmmaker Best Student Documentary – winner
THE GAME CHANGER directed by Indrani Kopal
(Hofstra University)
LGBTQ Showcase – winner
ABAN + KHORSHID directed by Darwin Serink
LGBTQ Showcase – Honorable Mention
STEALTH directed by Bennett Lasseter
(American Film Institute)

2015 Finalists Screenings
will be held May 17 & May 18

Sunday, May 17, 4:30pm – 6:30pm
Emerging Filmmaker LGBTQ Showcase of Short Films
Followed by Queer Night Party at 10:00pm
Monday, May 18, 10:00am – 12:30pm
Student Short Films & Documentaries
Monday, May 18, 1:00pm – 3:00pm 
Emerging Filmmaker Short Films & Documentaries

Screenings and Q&A with filmmakers will take place at
The American Pavilion Roger Ebert Conference Center
Cannes, France

2015 FINALISTS

STUDENT SHORT FILMS
DAY ONE
Trailer | Website
2014, 25 min., USA, Drama/War, American Film Institute

Writer/Director: Henry Hughes
Producer: Michael Steiner
Cast: Layla Alizada, Bill Zasadil, Navid Negahban
Inspired by a true story, an Afghan-American woman on the heels of a divorce joins the US Military as an interpreter. On her first day of deployment in Afghanistan, her unit searches out the remote house of a bomb-maker. When the bomb-maker's pregnant wife goes into labor, the interpreter must go beyond the call of duty to deliver her breech child.
EARLY DECISION
Trailer | Website | Facebook
EARLY DECISION 
2014, 13 min., USA, Comedy, Columbia College

Director: Jordan Kalms, William Maxfield, Luke Mones
Cast: Ben Estus, James Elwood, Ellie Bensinger, Eston Fung, Joe Mullen
A sardonic depiction of an admissions interview, 'Early Decision' looks at the ironies and pretenses that exist in the college admissions process. When Jake, an eager prospective student, arrives at Columbia University, he discovers that he will be interviewed by Dr. Richards, the new head of admissions, in an encounter that will challenge him to see just how far he's willing to go to get into his dream school.
GROOMING
Trailer | Website | Facebook
2014, 23 min., USA, Drama, University of Southern California

Director: Kaushik Sampath
Writer: Kaushik Sampath, Juan Rubalcava
Producer: Austin Sepulveda, Kevin Matre, Christine Karaoglanian
Cast: Emily Bridges, Michael Bourgi, Carmen Argenziano, Vince Jolivette, Elena Campbell-Martinez
Jessica, a middle school guidance counselor tries to reach out to one of her students, Sergio, when she suspects that he's being abused by the school's swim coach.
PARCEL QUEST
Trailer | Website | Facebook
2014, 2 min., USA Action/Comedy/Animation, The School of Visual Arts

Writer/Director: Joseph Szokoli
A misunderstanding between a delivery boy and a biker in a fantasy world of floating islands, and hover cars.
WELCOME

Trailer | Website | Facebook
2015, 17 min., USA, Drama, NYU Tisch School of the Arts
Writer/Director: Serena Dykman
Producer: Serena Dykman, Elizabeth PW, Mav Block
Cast: Jandra Dee, Nick Adamson, E. George Perry, Debbie Troche, Randall McNeal, Lola Akinola,  Sandra M. Bloom, Victoria Grazioli
The day her boyfriend plans to propose to her, Anna, a young New York-based Czech doctor is held at U.S. immigration after a humanitarian trip to Uganda.

EMERGING FILMMAKER SHORT FILMS
BEFORE THE BOMB
Trailer | Website | Facebook
2015, 23 min., USA, Drama
Director: Tannaz Hazemi
Writer: Tannaz Hazemi/ James Grimaldi
Producer: Renee Muza, Jessica Miller
Cast: Sterling Jerins, Heidi Armbruster, Cindy Cheung, Lori Prince, Jesse Dean Peterson, Paul Samoylov, Anna Suzuki
10-year-old Elsa takes matters into her own hands when Child Services plans a visit that could separate her from her brother.
 BIS GLEICH (TIL THEN)

Trailer | Website | Facebook
2014, 20 min., USA/Germany, Drama/Subtitles
Director: Benjamin Wolff
Writer: Tara Lynn Orr
Producer: Philippe Brenninkmeyer
Cast: Horst Westphal, Gertrud Roll, Julia Richter
Set against the backdrop of a rapidly gentrifying Berlin, BIS GLEICH tells the story of two people who share a daily ritual, but have never actually met. Their unspoken connection deepens when, one day, they are forced to face the inevitable…together
CINDY'S NEW BOYFRIEND
Trailer | Website | Facebook
2015, 23 min., USA, Action/Comedy/Crime

Director: Robert Brinkmann
Writer: Sean Sellars
Producer: Robert Brinkmann, Sara White
Cast: Oliver Cooper, Darren Le Gallo, Eric Stoltz, Cameron Richardson, Jack Plotnick, Paul Kellner, Roman Mitichyan, Sean Sellars
An actor tries to scare off the new boyfriend of his buddy's ex-girlfriend by reprising his role as a tough guy in a bad TV movie, but the new boyfriend turns out to be a brutal mobster.
I LOVE YOU, DAD
Trailer | Website | Facebook
2014, 10 min., USA, Comedy/Drama
Director: Eric Normington
Writer: Rob Chester Smith
Producer: Eric Normington, Rob Chester Smith
Cast: DeDe Drake, Rob Chester Smith
A phone call between father and son snowballs into something more.
 
THE WINDOW
Trailer | Website | Facebook
2015, 8 min., USA, Comedy/Drama
Writer/Director: Jill Pauletich-Ragan
Cast: Phoebe Moyer, Arye Michael Bender
An old lady sits in front of her picture window, alone, watching the people pass by until an old man comes along and decides to woo her from the sidewalk. But this is no ordinary old man with his courting skills upping the ante.
EMERGING STUDENT DOCUMENTARIES
THE EMOTIONAL DIMENSIONS OF THE JAMES RIVER
Trailer | Website | Facebook
2015, 3 min., USA, Documentary, Math & Science High School Clover Hill, VA
Producer/Writer/Director: Michelle Marquez
Musically and visually designed based on a neuroscience research project, this experimental short film explores the deeply rooted biological connection that the human brain forms with complex images, sounds, and music. Using drones for aerial photography and special Infrared cameras, fifteen-year-old filmmaker Michelle Marquez breaks down the barrier between science and art in this unique visual and auditory experience.
THE GAME CHANGER
Trailer | Website | Facebook
2014, 17 min., USA, Documentary, Hofstra University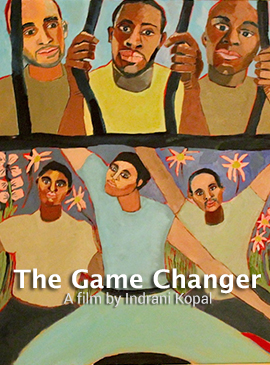 Director: Indrani Kopal
Every Sunday afternoon for the last seven years, Susan Slotnick drove an hour up the mountains to the Woodbourne Correctional Facility, a medium security prison for men, to teach modern dance. The lives of men whom she touched have never been the same since. This is her story.
A PORTRAIT OF ABUSE
Trailer | Website | Facebook
2014, 19 min., USA, Documentary, Vassar College
Writer/Director: Nick Chianese
Producer: Maggie Brelis
Cast: Alexander Chianese, Tony Chianese, Joann Richichi
In this emotional documentary short film, Alexander Chianese, a 24-year-old artist from New Jersey, talks about the abuse he suffered at a young age at the hands of his babysitter and how he learned to cope with his traumatic past through his artwork.
EMERGING FILMMAKER DOCUMENTARIES
HOLLYGROVE: THE TRUE LIFE STORY OF MONSERRAT
Trailer | Website
2014, 7 min., USA, Documentary
Producer/Writer/Director: Carlos Hurtado
Cast: Danielle Breen, Monserrat Zarza (voice)
This short revolves around Hollygrove, which was founded in 1880 as the Los Angeles Orphans Home Society. Hollygrove provides help and hope to children in crisis including movie icon Marilyn Monroe when she was a nine-year-old with no family to take care of her.
INDISPENSABLE SHIFT: FUKUSHIMA, TIP OF THE ICEBERG
Trailer | Website | Facebook
2014, 4 min., Japan/USA, Documentary
Producer/Writer/Director: Yoko Kubota
Producer: Yoko Kubota, Jeyla Mendoza
Cast: Yoko Kubota (voice)
This film talks about the current situation of the Fukushima Nuclear disaster and the problems in the Nuclear Power Industry world wide. Can the global community come together to protect humanity as we face this critical issue?
MARYGRACE
Trailer | Website | Facebook
2015, 14 min., USA, Documentary
Director: Pam Brandon
Writer: Claudia Lapin
Producer: David Jenkins, Pam Brandon, Claudia Lapin
Cast: Mary-Grace Langhorne
MARYGRACE is the inspiring story of a young girl's determination to heal through the power of music, and recover from near total paralysis one step at a time. While bed-bound, her first goal was to enter a singing competition; her passion for singing, she discovered, was her best therapy.
EMERGING FILMMAKER LGBTQ SHOWCASE

ABAN + KHORSHID
Trailer | Website | Facebook
2014, 13 min., USA, Drama, LGBTQ
Writer/Director: Darwin Serink
Producer: Darwin Serink, Tommee May, Candace Silvers, Christopher Leggett
Cast: Bobby Naderi, Mojean Aria
Inspired by true events, Aban + Khorshid is an intimate portrait of two lovers, glimpsing into the world in which they met, moments before they face the ultimate punishment for being gay.
ADJUST-A-DREAM
Trailer | Website | Facebook
2014, 6 min., USA, Comedy/Drama/LGBTQ
Producer/Writer/Director: Jonathan Wysocki
Cast: Doug Tompos, Tom DeTrinis, Victor Dante
As Jake and his boyfriend shop for a new mattress, the prospect of moving in together raises more questions than "hard or soft?"

CHARLIE
Trailer | Website | Facebook
2014, 22 min., USA, Comedy/Drama/Romance/LBGTQ
Writer/Director: Shawn Ryan
Producer: John Ainsworth
Cast: Shawn Ryan, Jim O'Heir, Mo Collins, Andrea Marcovicci, Chris Conner, Nancy Kimball, Nick Rhys
"Charlie" is the story of a young man who goes hysterically mute when choosing to leave his abusive past behind. It's Christmas Eve and he stumbles upon the Sanderson family who takes him in as their own. Charlie begins to bloom in this loving environment where perfect strangers have taken him in as one of their own. Starring Shawn Ryan (Bones), Jim O' Heir (Parks and Rec), Mo Collins (MADtv), and Golden Globe Nominee Andrea Marcovicci.
ELECTION NIGHT
Trailer | Website | Facebook
2015, 11 min., USA, Comedy/LGBTQ, American Film Institute
Director: Tessa Blake
Writer: Tessa Blake, Ian Williams
Producer: Catherine Dent, Grace Santos, Stasia Droze
Cast: Peri Gilpin, Jake Johannsen, Cole Jensen, Caitlin Zambito
A politician's family waits for the last 350 votes to be counted – will it be a celebration or a concession? Nerves rattle the family into a comic whirlwind of wild theories, long-held secrets, and a revelation that nobody saw coming.

OUR FATHER
Trailer | Website | Facebook
2014, 21 min., USA, Drama/LGBTQ
Writer/Director: Linda Palmer
Producer: Linda Palmer, Mark Cardone, Sandy Robinson, Colleen Keane
Cast: Michael Gross, Michael Worth, Eileen Grubba, David Topp
An estranged father suffering from late stage dementia, in a fleeting moment, reveals to his son secrets that begin to heal a broken family.

STEALTH
Trailer | Website | Facebook
2014, 22 min., USA, Drama/LGBTQ, American Film Institute (AFI)
Director: Bennett Lasseter
Producer/Writer: Melissa Hoppe
Cast: Bill Watterson, Tate Hanyok, Keely Aloña, Dominic Conti, Liana Arauz, Kristina Hernandez, Asia Aragon, Max Weideman
The heartwarming story of a brave, transgender tween! Sammy is a transgender child. She was born a boy but is living in stealth as a girl with the support of her mother and a doctor. At her new school, Sammy finds the friends she has always dreamed of having and tells them her secret in confidence. When the threat of a betrayal arises, Sammy must decide whether to run or to live as her whole self.
Thank you to our Prize Award Sponsors:
Final Draft, Movie Magic Screenwriter, Jungle Software, MWP Books, International Documentary Association(IDA), Screening Services Group/Wilshire Screening Room, ESE Film Workshops Online