2017 Finalists: Emerging Filmmaker Showcase

About the Showcase:
Since 1989, The American Pavilion has offered opportunities in Cannes to film students from around the world. The 2017 Emerging Filmmaker Showcase will provide an opportunity for emerging filmmakers to have their works seen by Cannes Festival and Film Market attendees. Prizes will be awarded to filmmakers and the top twenty-five films will be screened in a special "Emerging Filmmaker" showcase at The American Pavilion in Cannes.

THE

AMERICAN PAVILION


EMERGING FILMMAKER SHOWCASE
WINNERS ANNOUNCED!
 Emerging Filmmaker Showcase Best Short Film – winner
THE PERFECT DAY directed by Ignacio Redondo

Emerging Filmmaker Showcase Best Student Film – winner
OWEN directed by Kelly Pike (UCLA)

Emerging Filmmaker Showcase Best Documentary – winner
WE ARE PEOPLE TOO: STORIES FROM THE JUNGLE directed by Stephanie Meurer

Emerging Filmmaker Showcase Best Student Documentary – winner
LOVE LETTER RESCUE SQUAD directed by Megan Rossman
(Hunter College)

Emerging Filmmaker LGBTQ Showcase Best Short Film – winner
SPUNKLE directed by Lisa Donato

Emerging Filmmaker LGBTQ Showcase Honorable Mention – winner
MY MOM AND THE GIRL directed by Susie Singer Carter

2017 FINALISTS
STUDENT SHORT FILMS
(Tuesday, May 23, 11:00 a.m. to 1:30 p.m.)


Trailer | Website| Facebook
DOOR TO FREEDOM  (TUR ZUR FREIHEIT)
2016, 20 min., Austria, Drama, Subtitles, Salzburg University of Applied Sciences (KCETLink's Fine Cut Film Festival Winner)

Writer/Director: Jeremias Bayerl
Producer: Bianca Weber
Cast: David Luis Burgart, Sandro Di Stefano, Alan Hasso, Anton Noori
What if the deepest issue of the refugee crisis is packed into the moral of a bedtime story? A drama, in which a boy has to escape from war and overcome several barriers in order to reach his goal, a wooden door, his only chance to freedom. A paradox world that is truly sad, finally revealing a bizarre surprise.
THE OUTCAST
2015, 16:33 min., USA, Drama, Subtitles, Columbia College Chicago (KCETLink's Fine Cut Film Festival Winner)

Director: Bucher Almzain
Producer: Bucher Almzain, Olayinka Hassan
Writer: J. Scott Sibley, Bucher Almzain, Aisha Deeb-Almzain
Cast: Mariam Sobh, Adham Murched, Robert Hope, Shaker Zaibak, KC Matthews, August Gallagher-Alex, Francesca Santoro, Dom Coviello
After escaping a war torn country, a young woman is now torn herself when her husband is denied entry into the U.S. Alone and with little money, she struggles to get him in before he is deported. Surrounded by a foreign culture, she must learn to quickly adapt while feeling like a true outcast.
THE MOMENT
2016, 2 min., USA, Animation, School of Visual Arts

Writer/Director: Karis Seungyoun Oh
Producer: John McIntosh
Cast: Stephen Knight
The Moment is a story about an artist who learns about the importance of the things unseen as she gets to draw a stranger's portrait.
Trailer | Website| Facebook
BENNY GOT SHOT

2016, 20 min., USA, Drama, American Film Institute

Writer/Director: Malcolm Washington
Writer: Jory Anast, Malcolm Washington
Producer: Joenique Rose
Cast: Iantha Richardson, Jihad Reeves, Tammi Mac
When Naomi, a young autopsy assistant at the LA County Coroner's office, realizes her brother has gone missing on the night of a police shooting, she is forced to confront her worst fear, that his body may be in the morgue.
TRUE COLORS

2016, 5 min., USA, Animation, School of Visual Arts 

Writer/Director: Nicole Morciniec
A small sparrow falls in love with a beautiful bird, and paints himself to be colorful in order to catch her attention.
Trailer | Website| Facebook
OWEN

2016, 14 min., USA, Drama, UCLA


Writer/Director: Kelly Pike
Producer: Kelly Pike
Cast: Casey Kramer, Owen the Golden Retriever, Courtney Stewart
Hellen lives on the streets with her aging dog, Owen, as her only companion. An opportunity for housing comes her way, but Owen is not allowed to join her. She has one day to make a series of hard decisions that leave both of their futures hanging in the balance.
Trailer | Website| Facebook
SWIPE RIGHT

2016, 9 min., USA, Comedy/Drama/Romance, Chapman University
 Dodge College of Film & Media Arts

Writer/Director: Kendall Goldberg
Producer: Kendall Goldberg, Amber Berck
Cast: Cameron Kelly, Jimmy Seargeant, Maile Flanagan, Ryan Stiffelman, Tom Teller, Trevor Stevens
After being stood up by her Tinder date, Katie's impromptu bar hookup goes horribly wrong.
Trailer | Website| Facebook
DRIFTING 

2017, 6 min., USA, Drama, Young Actors' Theatre Camp

Director: Olivia Ingram, Shawn Ryan
Writer: Shawn Ryan
Producer: John Ainsworth

Cast: Alexia Hermann, Naomi Grossman, Hope Raymond
Jenny arrives at show and tell with her pet goldfish and an unusual request. A journey into the mind of a child being dragged through her parent's messy divorce, "Drifting" is the tale of finding one's place in an ever-changing world.
EMERGING FILMMAKER SHORT FILMS (Tuesday, May 23, 2:30 p.m. to 4:30 p.m.)

HIDE & SEEK (GRAND HUIT)
2015, 23:48 min., Drama, Subtitles, France
 (KCETLink's Fine Cut Film Festival Winner)

Writer/Director: Camille Fleury
Producer: Joanna Sitowska
Cast: Elise Lhomeau, Sandrine Dumas, Suzanne Rault-Balet
Alice is in the hospital. Here, she does not invite: she gets visitors.
DEAR DAD

2016, 5:30 min., USA, Family Drama


Writer/Director: Carlos Alberto Hurtado
Producer: Carlos Alberto Hurtado, Terence Lee
A thank you letter from a cancer survivor to his father whose words and life lessons taught him the value of never giving up.
I SEE YOU 

2016, 10 min., USA, Drama/Action, AFI Women's Directing Workshop

Writer/Director: Manjari Makijany
Producer: Manjari Makijany, Emmanuel Pappas
Cast: Anya Inger, Raegan Revord, Shahaub Roudbari
A man on a terrorist mission struggles with his decision on a crowded subway after he meets an innocent child on board but he's a ticking time bomb with no safe place to go. A déjà vu moment connects him to his haunting past and urges him to question the complex notion of the enemy. When the 'enemy' is humanized there's a shift in perspective.
THE MORNING AFTER

2017, 13 min., USA, Drama

Director: Joe Boothe
Writer: Alexa Alemanni, Joe Boothe
Producer: Michael Scott Allen, Mindy Cohn, Gretchen Landau
Cast:  Alexa Alemanni, Michael Scott Allen, Layne Kula
Out of town for a wedding, a young married couple face a pregnancy scare and must walk miles to find a pharmacy. Their long journey forces them to face tough questions about their relationship that threaten to tear them apart.
SOLITUDE

2016, 7 min., Australia, Drama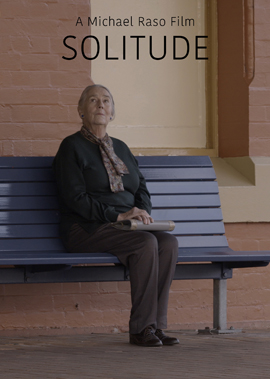 Writer/Director: Michael Raso
Producer: Michael Raso, JD Cohen
Cast: Maggie Blinco
Margaret is an 80-year-old widow who spends each day visiting her local train station. She pleasantly sits on a bench absorbing the surroundings which give her a lot of bliss. The staff are aware of her presence and give her something significant in an envelope, hoping she'll no longer return. What's in the envelope?
THE PERFECT DAY (EL DÍA PERFECTO)

2016, 11:43 min., Subtitles, Spain, Comedy

Producer/Writer/Director: Ignacio Redondo
Cast: Ignacio Redondo, Pedro Freijeiro, Paula Sancho, Pep McCoy, Maria Jesus Garrido, Tatiana Ruiz
It's the most important day in David's life. He has a $10.000.000 deal with a Japanese Holding and it's all or nothing today.  Everything seems to turn out perfectly well, until…
EMERGING STUDENT DOCUMENTARIES (Tuesday, May 23, 11:00 a.m. to 1:30 p.m.)
MY GARDEN, NO LONGER

2017, 17:09 min., USA/Vanuatu, Documentary, Wake Forest University

Producer/Writer/Director: Scott E. Schimmel
The people of Vanuatu, a country once dubbed the happiest place on earth, struggle to maintain their culture and traditions as climate change takes hold.
ACOUSTIC NINJA

2016, 7:30 min., USA, Documentary, Florida State University

Producer/Director: Robert Bevis
Cast: Trace Bundy
In this portrait of fingerstyle guitarist Trace Bundy, we explore his desire to strike the perfect balance between life on tour and life at home.
EMERGING FILMMAKER DOCUMENTARIES (Tuesday, May 23, 2:30 p.m. to 4:30 p.m.)
Trailer | Website| Facebook
WE ARE PEOPLE TOO: STORIES FROM THE JUNGLE

2017, 22 min., USA/France, Documentary

Producer/Director: Stephanie Meurer
From the front lines of the 'Jungle' refugee camp in Calais, France, stories from those who lived and worked there.
$15 KICKS

2016, 11 min., USA, Documentary 

Director: Jenn Shaw
Producers: Spike Lee, John Dahl, Danielle Dormer, Marquis Daisy
Cast: Stephon Marbury
In 2006, former NBA star Stephon Marbury endorsed a revolutionary low-cost sneaker called the Starbury. $15 Kicks revisits the Starbury sneaker's altruistic mission and media frenzy. The film highlights proponents and skeptics of the brand's humble gross margin and its tumultuous discontinuation in 2009.
YOURS SINCERELY, LOIS WEBER

2017, 6 min., USA, Documentary


Director: Svetlana Cvetko
Writer: Lisa DiTrolio, David Scott Smith
Producer: David Scott Smith
Executive Producer: Elizabeth Banks, Benjamin Alfonsi
Cast: Elizabeth Banks, Anne Brochet, Cristina Rambaldi, Stina Nielsen, Carol Monda
"Yours Sincerely, Lois Weber" examines the achievements of the highest paid silent film director at Universal in 1916, a woman by the name of Lois Weber. It is told through the fictionalized character of a young magazine photographer who hopes to impress her.

EMERGING FILMMAKER LGBTQ SHOWCASE (Sunday, May 21 –  4:30 p.m. to 6:30 p.m.)
SPAGHETTI ROMANCE

2017, 10:43 min., USA/Italy, Comedy/LGBTQ, Santa Monica College/
CinemadaMare
Producer/Writer/Director: Carrie Finklea
Cast: Ronja Jansz, Aurora Deiana, Vincenza Zichichi
Set in Sicily, Abby meets her girlfriend's conservative mother for the first time. When the encounter goes awry, she decides to take matters into her own hands –Italian style.
COCOON

2017, 25 min., USA/China, Family Drama/LGBTQ, Subtitles, University Southern California
Director:  Mei Liying
Writer: Mei Liying , Xu Zhang
Producer: Xu Zhang
Cast: Jinger Li, Yuan Xu, Jing Yang
China, 1997. A little girl finds out about her mom's affair with another woman. She has to make a decision of whether keeping this secret or not.
A DOLL'S EYES

2016, 12 min., USA, Drama/LGBTQ/Documentary

Producer/Writer/Director: Jonathan Wysocki
Cast: Jonathan Wysocki, Gabriel Bennett
Haunted by the film 'Jaws' since childhood, a filmmaker discovers why the movie affected him so deeply.
SPUNKLE
2016, 11 min., USA, Comedy/Drama/LGBTQ
Director: Lisa Donato
Writer: Fawzia Mirza, Lisa Donato, Ryan Logan
Producer: Fawzia Mirza, Lisa Donato, Steven Hudosh, Nabeela Rasheed
Cast: Fawzia Mirza, Jake Matthews, Laura Zak
Tensions rise when a woman and her wife ask her brother to be the sperm donor of their baby… or the uncle… or…the spunkle?!
Trailer | Website| Facebook
LOVE LETTER RESCUE SQUAD

2016, 6:47 min., USA, LGBTQ/Documentary, Hunter College 
Producer/Director: Megan Rossman
Cast: Deborah Edel
"Our history was disappearing as quickly as we were making it." With that realization, Deborah Edel and Joan Nestle co-founded the Lesbian Herstory Archives, the world's largest collection of materials by and about lesbians. More than 40 years later, Deb must consider the future of the collection.
MY MOM AND THE GIRL

2016, 19:45 min., USA, Comedy/Drama/LGBTQ
Writer/Director: Susie Singer Carter
Producer: Susie Singer Carter, Donald Priess, Romell Foster-Owens, Tony Cacciotti
Executive Producer: Mark Heller
Cast: Valerie Harper, Liz Torres, Harmony Santana, Emilka Kasprowicz, DawnMarie Ferrara
MY MOM AND THE GIRL is a true story based on an odd encounter that an East Coast woman with Alzheimer's (Valerie Harper) has one night on the capricious streets of East L.A. An unusual chance meeting that proves to have a profoundly positive effect on three very disparate – desperate – women.
Thank you to our Prize Award Sponsors:
KCETLink Media Group's FINE CUT Festival of Films, Final Draft,  Write Brothers Movie Magic Screenwriter,  Jungle Software,  Michael Wiese Productions Books,  International Documentary Association(IDA), Screening Services Group,  ESE Film Workshops Online